As in previous years, Viprinet can, in 2012, again look back to a highly successful presentation at the world's largest computer fair CeBIT in early March. Please read our CeBIT 2012 review for the details.​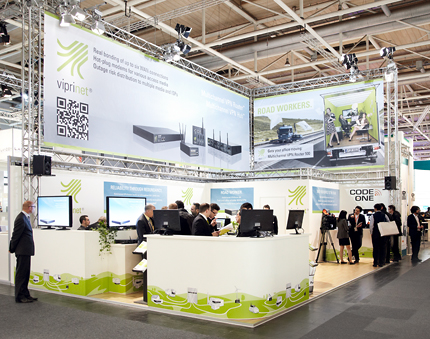 After having presented the bonding of the LTE networks from Vodafone and T-Mobile live at CeBIT, this technology now also is available to Viprinet customers - we've started shipping pre-ordered LTE modules. This enables Viprinet customers to be among the first to be able to use the new and upcoming LTE networks and to start experimentating with this new (and currently still quite unstable) technology. Please note that LTE module orders currently have a lead time of about 6 weeks, so order early.
The number of successul pilot projects done with our new Multichannel VPN Router 500 is rising quickly. Should you have not done any research on the new options this product enables in the mobile sector, maybe you should do so now.
We've updated and re-designed our product folder. We think it now does a much better job at explaining our products and their usage scenarios.
And finally after months of development and beta-testing, features requested by Viprinet customers and a huge number of product quality improvements become available due to a new stable firmware release.
This firmware also was used together with our products to provide fast and stable bonded internet connectivity to the participants of the Revision Party, a 4 day 24h computer arts event with over 850 visitors from over 30 countries which took place over Easter weekend. Just as last year, Viprinet has been the head sponsor of this event.
And finallly, we have now relaunched our website. During the past few weeks, our team has re-done much of the content and tried to improve on all the aspects explaining our products and its use cases. Feel invited to provide feedback.