As part of her "F.I.T. & Nachhaltig" summer tour, Minister Eveline Lemke visited our headquarters in Bingen this past Thursday and learned a lot about our products and the Innovationspark Bingen.
Simon Kissel, CEO Viprinet Europe GmbH, and shareholder of Innovationspark Bingen GmbH, showed Minister Lemke (Ministry of Economy, Climate Policy, Energy and Regional Planning), Pia Schellhammer (member of the Rhineland-Palatinate state parliament), Elisabeth Gräff (parliamentary chairwoman of the CDU, Councillor Bingen) and Ulrich Mönch (Mayor Bingen am Rhein) our headquarters and introduced our departments and their responsibilities.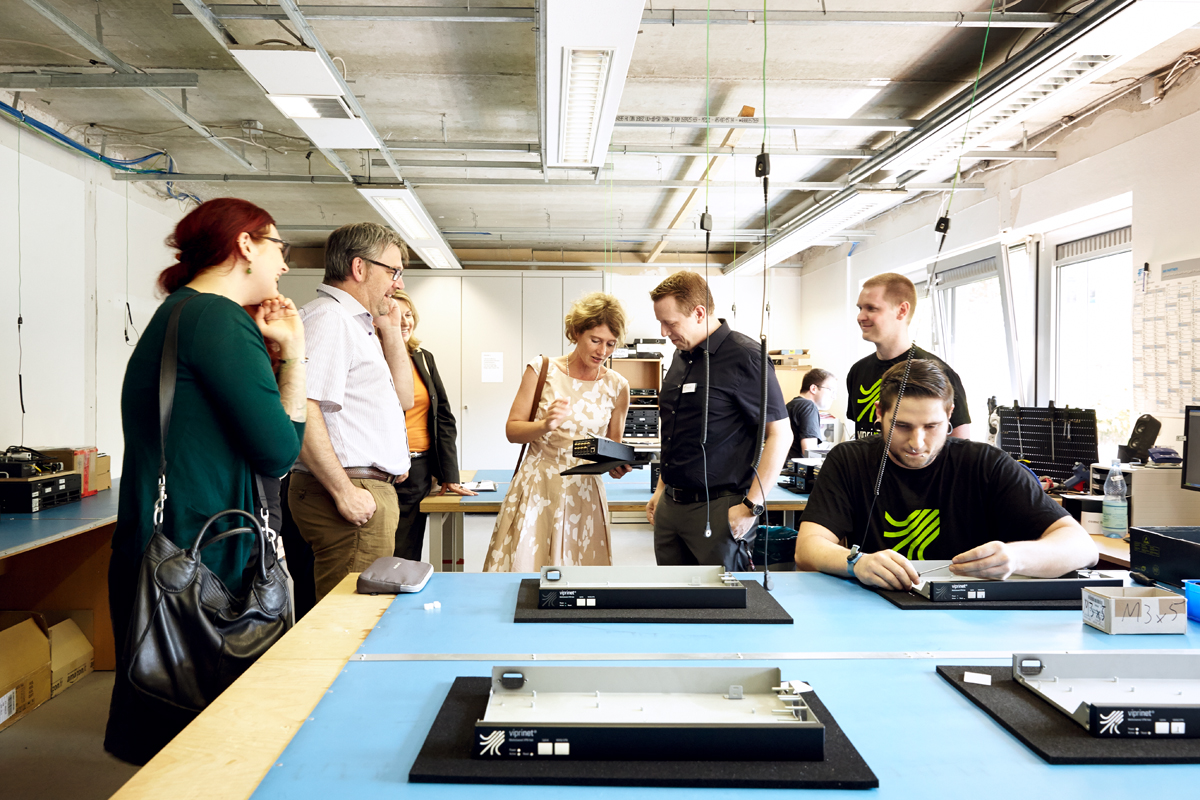 (Photo: Frauke Bönsch)
In the production area, our visitors discovered the strict quality controls our production team uses and were able to familiarize themselves with how our Viprinet Multichannel VPN Routers work. The advantage of the Viprinet principle over other technologies, explained CEO Simon Kissel, is that it delivers a rock-solid internet connection, both stationary and in the mobile space, through the simultaneous use of multiple providers, delivering not only enough bandwidth but reliability, even in the case of poor network coverage. Furthermore, he pointed to possible solutions to reduce the exodus of business parks due to poor infrastructure in rural areas, and to encourage the creation of new companies.
In addition, our visitors got to see specially equipped ambulance, the Internet Rescue Service, presented in detail as an introduction to the eHealth and telemedicine solutions we can deliver. All an ambulance needs to stream live video transmission are a Viprinet router, a webcam, and a hospital-based hub. The ambulance staff can transmit emergency data to the medical team at the hospital – saving time on diagnoses.
We presented our multicultural research and development department: colleagues from the United States, Portugal, Italy, and Hungary were able to demonstrate the latest technical equipment for the production of prototypes and gave the visitors a rare glimpse into our hardware and software development.
After the tour, visitors and management of Viprinet had an hour-long conversation about Viprinet and its products and the business environment for the IT industry in Rhineland-Palatinate on our sunny terrace. They also discussed Innovationspark Bingen as well as plans for an innovative district heating concept and public parking area.
We thank the attending representatives and members of the press for their visit. We hope to have given a good insight into our unique company, and would be pleased to see them here again.