Viprinet enables ultra-mobile bonding of UMTS / HSPA+, CDMA and LTE​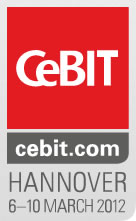 As in the years before, German Multichannel VPN Routers and Hubs manufacturer Viprinet will be at CeBIT also in 2012. With the peg "Road Workers.", Viprinet mainly focuses on the mobile office at its CeBIT presentation this year.

Using the ultra-mobile Multichannel VPN Router 500, which was first presented at CeBIT 2011, and a new LTE modem easily to be integrated into Viprinet's router models, vehicles and other mobile devices can now also be connected to the Internet or to already existing company networks – without the usual disadvantages towards stationarily linked workplaces.
The new Multichannel VPN Router 500 takes every office on the road: With four times UMTS and LTE, it bonds bandwidths and strengths of all available mobile phone networks. Even when driving at full speed, maximum transfer rates can be achieved without connection breakdowns. Stable latencies also allow critical applications like video conferencing and cloud computing.
With video streaming specialist Code One, Viprinet will show how professional mobile video streaming out of a backpack, e.g. for situation assessment or surveillance purposes, is possible even at badly connected places. There is also some innovation in the Health Care sector: Based on the "ViewCare" solution of Danish Viprinet partner Sharecon, Viprinet presents possibilities arising from the mobile connection of emergency vehicles.
During the whole CeBIT, developers, technicians and the management of Viprinet present at the Viprinet booth will be happy to give advice concerning connection demands, be it mobile or site-to-site connection. Viprinet constantly searches for competent and successful sales and solution partners – on national and international level. Interested companies are encouraged to seek a personal discussion about the Viprinet partner programme at the Viprinet booth. Appointments can also be made in advance via email tocebit2012@viprinet.com.
Viprinet's CeBIT 2012 booth is located at Hall 13 Booth D27.