Very positive result of the Viprinet Days 2014
Bingen, 9/5/2014. – A hundred partners and distributors from all over the world met at the Viprinet premises in Bingen to learn all about new products, new fields of application, and the new firmware "Viprinet Next Generation" that will secure Viprinet's technological market leadership in regards to bonding several Internet links for the next years. CEO Simon Kissel shares more details about the new firmware: "With Viprinet Next Generation, our customers can rest assure that, for the next five years, they will buy the most up-to-date and best product for bug-proof and highly reliable broadband Internet on the market.
For instance, partners were able to take a look at the provider-independent hybrid router Multichannel VPN Router 200 which is able to bond one mobile and one wired Internet connection. As all Viprinet devices, this Multi WAN Router is "Made in Germany" and free of backdoors or any other listening devices – guaranteed.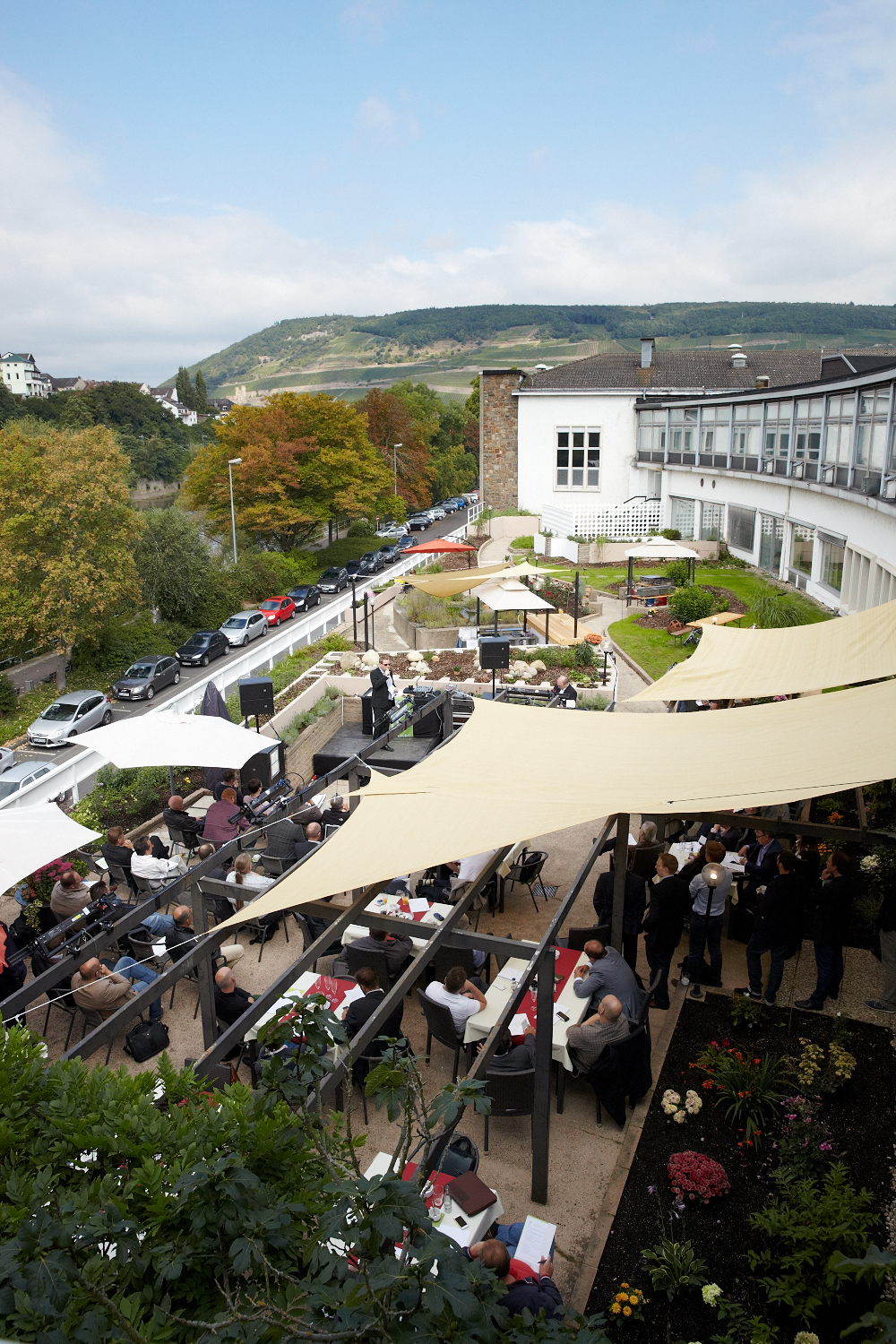 Partners and distributors on the terrace at the Viprinet premises (photo by Frauke Bönsch).
We were also very delighted to have a special guest visit us on the second Viprinet Day: Alexander Schweitzer, Minister of Social Affairs, Labour, Health, and Demography of German state Rhineland-Palatinate. In his welcoming speech, he emphasized the importance and innovative strength of medium-sized companies whose creative ideas are already one step ahead, enabling better healthcare for the population. He promised to encourage a pilot project aimed at showing clearly the advantages of eHealth solutions.
Press information released on 9/5/2014 – 1,508 characters – Print free of charge, please forward a copy.
Press Contact:
Tobias Frielingsdorf
Head of Press & PR
Viprinet Europe GmbH
Gaustr. 22–32
55411 Bingen am Rhein
Germany
+49 (0)6721 / 490 30-114
+49 (0)6721 / 490 30-109
tobias.frielingsdorf@viprinet.com
zum Anfang