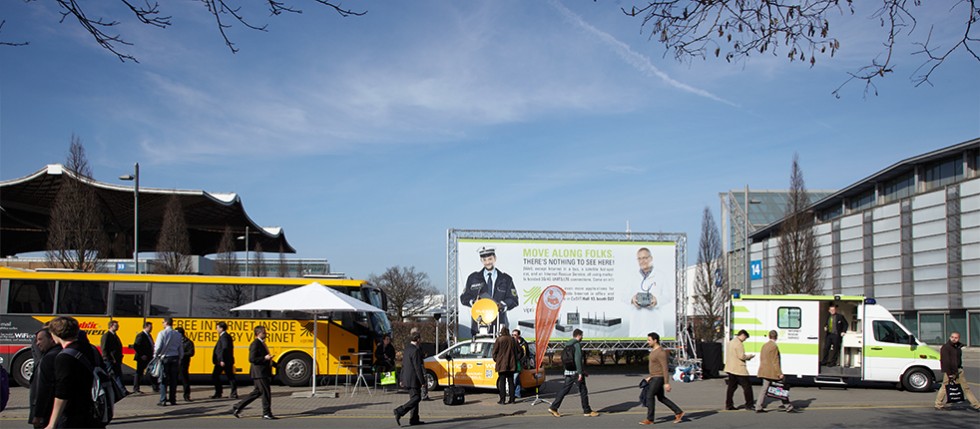 This year, we from Viprinet have spared neither trouble nor expense to create a memorable CeBIT presentation. We've pulled strings to draw attention of the press to Germany's broadband necessity. One of the events we talked about that topic was the CeBIT get-together of the VATM (a German association of telecommunications and premium rate service providers); there, Viprinet CEO Simon Kissel gave a much-noticed keynote speech. He criticized not only the dragging broadband expansion in Germany, but also the information policy of Internet providers regarding availability and bandwidth. In addition to that, we've initiated a public discussion about making broadband Internet available for everyone. Experts of politics and economics talked about the necessity of nation-wide broadband access. And last but not least, we were able to introduce Viprinet bonding technology in a specialist forum concerning digital radio for security organisations.
Another highlight of our trade fair presentation were the vehicles at our outdoor area. Here, the Viprinet Internet Rescue Service premiered: Prior to CeBIT, we bought a real ambulance and converted it into an Internet emergency vehicle. For that, we've equipped the vehicle with several Viprinet routers and the new MultiAMP Combiner, turning it into a mobile hotspot for trade fairs, road shows and other major events. In cooperation with Viprinet partner JHP-IT Optimierung, company Publicexpress fit out one of their buses with Viprinet technology. Another company, tividoo showed their subcompact hotspot which is able to bond mobile radio and satellite by using a Viprinet router. By that, tividoo can provide low-cost broadband Internet even in the most remote areas.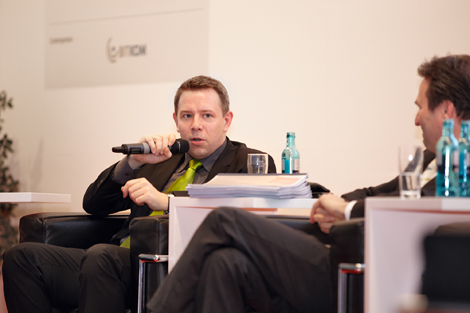 Simon Kissel criticizes information policy of network providers
At our main booth, LifeSize showed their video conferencing system. Also, Danish company Viewcare introduced their telemonitoring solution which enables doctors to comfortably monitor their patients in their own homes via live stream. By that, hospital stays can be saved.
As in the past years, we've revised our product range for CeBIT. Besides the succeeding generation for our Hubs, models 1020, 2020 und 5010, we also presented our new antenna solutions as well as our newest gem, the MultiAMP Combiner. With this device, up to four antenna signals can be amplified to an extend that any signal loss on antenna cables which are no longer than 25m can be compensated. In addition, we introduced two new types of modules, LTE with GPS and VDSL, and a prototype of model 500's successor. At CeBIT 2013, we also were able to demonstrate our new Node Stacking for the first time - a new software module which allows coupling two or more routers. Furthermore, we showed our new Traffic Accounting System live.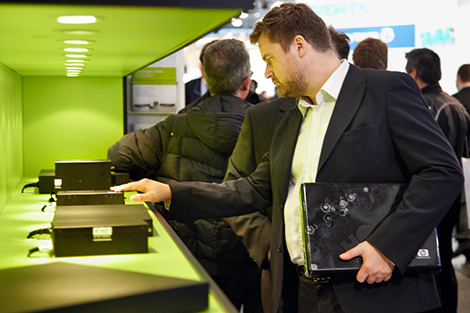 An array of our new products
Last but not least, we were able to excel at CeBIT with our newly designed booth. Not only did the floor plan change completely, but we also treated ourselves with an exceptionally comfortable and incredibly calm lounge in the first floor. By that, we were able to create a bigger dance floor for our booth party which has become a tradition over the past years. While DJs Tanzwart and Ronny Pries put on the finest House and Electro in the first floor, more than 500 guests celebrated the success of the past few days downstairs with delicious food and even better wine from Bingen (in two colours) until late at night.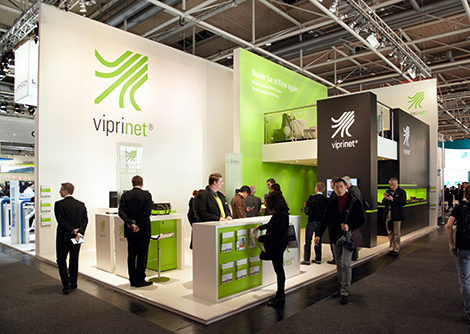 The new Viprinet CeBIT booth 2013
zum Anfang